Tired

Hello everyone!


How you been? I hope better than me. Last month wasn't so great for me. But before I tell you what happened I would like to mention that I updated the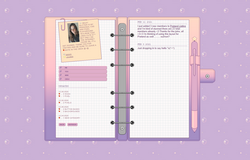 featured site on the header. This month it's Alaina's cute pixel and css site named Milky Glitter. Visit her site and show her some love.



So what happened in March? I had a depressive phase in March and during that phase my grandma also fell down the stairs to the basement. She was still recovering from last time when she was sick and not very sturdy on her feet yet. We told her not to go into the basement, but she did it thought and tripped on the last step. Luckily it was only the last step so she didn't fall harder. She has a crack in her pelvis now and can't walk at the moment. She has been in the hospital for 3 weeks now since then and will be there for another week. Since she won't be able to walk a few more weeks until that crack has fully healed she will be transfered to a nursing home next. Everyone in my family works fulltime and nobody has experience in nursing care so we can't take care of her at home. We are afraid to make a mistake and make her injury worse. But we were lucky and found a spot in a very good nursing home. I hope she will be able to walk again. She is over 80 y.o. already. I think it's hard at that age to recover from something like that. But I'm hoping for the best.

The worries about my grandma also made my depressive phase worse. During this pandemic the hospital and nursing home isn't the greatest place to be because of all the people there. But they are very strict with testing in those facilities here and they don't allow any visitors, so it should be ok. It's just sad that we can't visit her. We can call her though and once she gets better she can come back home.
Speaking of the pandemic: It's been a year now since the first lockdown here. Last year in late summer things got a little better here and it was possible to go out again, go to restaurants etc. But since autumn everything is closed again. All you can do is sit at home or go to work. So far the weather is still terrible and cold here so there is not much you can do outside yet. It feels like its been forever since the current lockdown started. I can't wait until the weather gets better.
Last week, when I thought that I finally start to get over my depressive phase, I received more bad news: another colleague told me that he is going to quit. I felt even worse after that. I don't think I have the energy to work for x people again and to teach everything to a new employee once again. I had a talk with the department manager this week and also talked to some other colleagues about it. I will take next week off because of my boyfriends 30th birthday and because I have to take care of some things related to my car. I'm still feeling out of energy and depressed so I hope a few days off will help somehow. I was told that a former colleague will come back in May and my other colleagues (who don't plan to leave) were optimistically too so that gives me some hope that everything will be fine at work. So my current plan is to regain some energy and get over that depressive phase for now. I don't feel like doing anything at the moment. I don't feel like playing any of my console games, I don't feel like working on my websites, I don't feel like doing anything of the stuff I usually do, and I feel kind of sick too. I hope that will improve during my days off.
I hope you all are doing better and stay healthy. I wish you a great weekend.



Sincerely, Ran
posted on Sunday, 18th April 2021 - comment?
Evolving
Websites, stress & more websites