Welcome to my little blog and link collection site!
I'm Ran - logistics manager in her late 20s, perfectionist, creative, gamer, anime fan,
loves cats and her car, taken
Where to start?

Hello hello!
The title says it all: it's been so long that I don't even know where to start.

I have been soo lazy when it comes to blogging. I though about writing a post several times but I either was to busy or just couldn't get myself to do it lol. Buuut I made some notes what I wanted to write about. First of all onto some site related things: I changed the text colors so everything is easier to read. It seems on some devices the text was just too dark. I also added a new category in the gallery. I found this fun site called picrew.me where you can create characters in different art styles and thought I'll display the ones I created here. Besides that I corrected some texts and did some background work.
The first months of 2022 were kinda chill. In January I got my first booster shot (which had no side effects at all), was addicted to Pokémon Legends of Arceus and did some relaxing stuff with my bf like watching The Witcher and anime. He also got us this Lego Tokyo kit which we built together.

Sometime by the end of March / beginning of April a depressive phase hit me. I was looking forward to some days off during the easter holidays but due to the depression I couldn't do anything. After a while I started to force myself to do stuff which helped me to get out it.
While I worked on keeping myself busy I tried recording myself using an avatar from Reality app - a fun little app where you can easily create a 3D model and start streaming with it. I have been intrigued by the thought of trying out to be a vtuber for a while before but I am very shy and I can't imagine to go live so I decided to use the app to create videos instead. I'm not sure wether I'll upload something to youtube or just add a video here and there on my websites yet. You can find my first try creating a video on the enter page of my graphic site. It's a disaster but at least it's kinda funny.

I still need to figure a lot of things out.
Another thing I have been up to is planning conventions and cosplays for this year.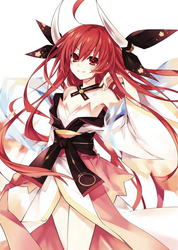 I will go to 3 conventions this summer and I'm excited af. The last convention that I have been to was in February 2020. It's definitely something I have missed a lot during the pandemic. For a while I considered to quit cosplaying because I feel like I'm starting to get too old for it - not because of looks but because conventions are already exhausting out of cosplay - and I feel like I have less and less energy the older I get.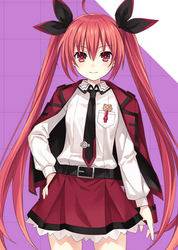 But I want to go all out this time after those 2 years. The character I'll be cosplaying is Kotori Itsuka from Date A Live. At first Date A Live was more of a filler anime for me because I didn't find anything else to watch, but I got kinda hooked after a while. I like Kotori's character design. I love characters with red hair anyways and I love her spirit form.
I ordered both her work-outfit and her spirit form dress. I hope one of the cosplays will arrive before the first convention. I would love to make the cosplays myself but I got way to much going on, especially with work.
Speaking of work: Whenever I think it can't get worse - it will get worse. We have been shorter on staff than ever the past weeks. Many colleagues suddenly called in sick while others were on vacation and one of my colleagues had to suddenly rush from work to the hospital several times because of her sick son. Things were already going terribly anyways - it's just been a mess. I have been working overtime a lot for weeks and I'm reaching my limit. It's already affecting my private life and my health. I hope things will calm down soon. I can't wait for the next time I have some days off from work.
I'll end this blog post here as I'm almost falling asleep while writing this after a long week. I hope you all are doing well and wish you a nice weekend!



Sincerely,


Ran
posted on Saturday, 14th May 2022 - comment?
A hectic month
Christmas is coming
Been a while
Still alive
Tired
Evolving
Websites, stress & more websites
Happy new year
Let it snow
visitors since 2020/12/06