Evolving

Hello, Hola and Kon'nichiwa everyone!
I'm a little shocked myself but we have a new and quite different to what I usually make layout. I wanted to create a more modern looking layout and this is the outcome. Too bad I didn't come up with this earlier, before I uploaded the new design to my graphic page. I probably would have used this design for my graphic page and not for BALC.

But it doesn't really matter, the current layout on my graphic page will stay for a while, while we enjoy this one here. Maybe I will create something similar for ARW as the next layout or as a free design.

BALC's new design already benefits from my other project that I mentioned in my last blog post. It might seem like a small achievement, but I found out how to use two background images (one vertically and one horizontally). I'm a little embarrased.

But I shouldn't be as I'm no professional at coding.

It's also the first time that I tried out image shadows (the affiliates on the right). The PNGs on the header are from Kuroi Inku. Yuumiko has a really good taste when it comes to choosing images for PNGs.
There were so many cute ones that inspired me, but I decided to use this one of dreamy looking Asuna (and the flowers in the back). I had something clean with soft colours in mind that would go well with Asuna's colours and I think I nailed it.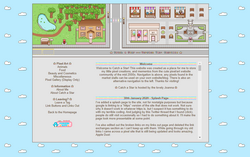 This month the site Catch A Star is featured on the header. Caz got some insanely cute pixel art there. I especially love the pixel animals.
Check out her site! I think I will look for more sites to add to my link collection soon. I already got one or two sites on my mind that I would like to add.
I also received a new application for the awarding by the talented Amanda for her colourful blog & pixel art site named Ruber Rosis. You can find the award of my choice in the awarding section.


To be honest I'm writing this blog post over the span of two days. Yesterday I was full of excitement and energy and today I'm somehow tired and gloomy. It had gotten way to late yesterday so I had to call it a day and continue today. I'm trying to keep up the energy that I had in the first part of this post.


So what happened in February? As mentioned in my last post I had a week off in the beginning of the month. After my grandma felt better I got quite addicted to Animal Crossing for the rest of the week. Here are some screenshots of my island so far:



(areas are not completely finished yet)
I had Animal Crossing on my Switch Lite before, but I never really used terraforming. This time I plan to recreate a lot of cool areas that I saw on
Youtube
which require terraforming.
After that week my energy dropped quickly again. This time my energy was even lower than in January. I was worn out before I went to bed and still felt worn out after I woke up. So last weekend I was laying down the whole weekend and did absolutely nothing. This week I was lucky that there was not much going on at work. I was able to leave in time or even earlier each day. I really needed that. I'm definetly feeling a little better now. I wonder if my energy lows are a result of my stressful job that I had for several years now. I've been thinking about quitting my job for a while, but I'm such a scaredy cat. I like to know what awaits me every day. New people and environments scare me. And this job gives me a lot of security for the future. The industry I'm working in benefits from the decrease of plastic packaging because we produce alternative packaging which is more environmentally friendly. We probably won't run out of orders for many years to come. I also thought about staying at home for a while and live off of my savings. I would have time for a lot of things that I usually don't have time for when I work 10-11 hours a day. But I would have to find a new job after that too. I'm not sure what I will do yet. Unfortunately things will get rougher in my current job soon too because a colleague has quit in February and another one will quit soon as well because of her pregnancy.
Besides that good news are that my dad found my old
Yu-Gi-Oh
duel disc in the loft when he was sorting out there. He wanted to throw it away. Luckily I saw that and was able to rescue it.

I changed the batteries and excitingly the display is still working:
I think these duel discs used to be sold for 25 bucks and now sell for over 100$. I could sell it but I prefer to keep it as a collectible and display it somewhere at home for nostalgia reasons (and who knows, maybe these duel discs will increase in worth even more? I could still sell it later on).
I think that's all for todays blog post. I'm happy that I can include larger images now because of the wider content area.

I hope you guys like the new layout and wish you a great day!
Sincerely, Ran
posted on Sunday, 7th March 2021
-
comment?
Websites, stress & more websites