Welcome to my little blog and link collection site!
I'm Ran - logistics manager in her late 20s, perfectionist, creative, gamer, anime fan,
loves cats and her car, taken
An eventful summer

Hello hello and good evening / morning / or whatever time it is for you!


I hope everyone is doing well! It's been some eventful months. My head is a little cloudy as I'm still recovering from Covid so this blogpost might be a little shorter, but I really wanted to post something again. I caught the virus about 3 weeks ago from my parents. It's crazy that I'm still affected by it. I haven't been that sick in a while, the last time was probably when I was a kid. I was batteling with a high fever for the first 5 days and now one and a half weeks later I still have a cough, low energy and a hard time focusing. Today was the first day that I was able to leave quarantine. We only went grocery shopping but I'm totally worn out alreay. Next week I have to return to work. I hope I can deal with the stress already, but I try to think positive at the moment and I'm glad that my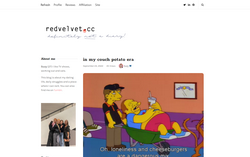 parents are recovering well and that my grandma didn't catch it.
Before I get into what else happened in the past months I would like to mention that I have a new affiliate: Suzy and her blog redvelvet. Check out her site if you are looking for another active blogger!


So in June I have been to the first of three anime conventions that I mentioned in my last post. To be honest, I totally underestimated how exhausting the first convention would be. After 2 years of almost not moving at all, walking around all day for 4 days straight was really hard lol. My plan was to wear the work outfit version of my Kotori Itsuka cosplays on the last day of the convention, but on that day my feet and legs already hurt so bad that I decided to not wear it. And I'm glad I didn't. On the way back from the convention to the parking lot I was in tears because I was in so much pain. For the first convention after such a long time we definitely should have planned to rest for a day in between exploring the city and going to the venue. Besides that the location was also extremely crowded, which was a little shock after 2 years of social distancing. The parking situation was a chaos as well because although they had enough space they didn't have enough staff to handle everything so there were very long waiting lines to enter the fields. At some point they just let everyone in but there were not enough cashiers so after parking their cars everyone was walking around confused and searching for the cashiers.
The next convention was in August and... not so great either to be honest. They had ridiculous rules of what you were allowed to carry in your bag and what not and some of the rules weren't even announced before. So if you wanted to get in and you carried something "wrong" you would either have to deal with them throwing your stuff away or stay outside. We were lucky that we didn't carry anything that wasn't allowed but were quite confused about everything. Unfortunately this convention was very crowded as well and we weren't able to see all shows because the rooms were too full (although we payed so much for the tickets

). We never had those issues two years ago. The only positive thing was that I got to wear my Kotori Itsuka spirit form cosplay and absolutely loved it.
The last convention was 3 weeks ago and although I didn't get to wear a cosplay again because it was too cold it was my favourite convention of all three. It wasn't too crowded, we found a good parking spot outside of the city and were able to comfortably get to the venue by public transport which was included in the ticket. I also managed to sell some figures and mangas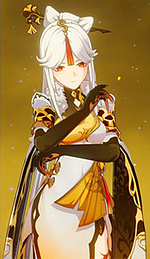 that I didn't like anymore (none from the gallery

) and we were able to see every show we were interested in. I'm glad that we made it there before I caught the virus.
During my freetime between the conventions I got totally addicted to Genshin Impact which kind of disctracted me from my websites (I'm so sorry ;-;). I always had an eye on that game but avoided it because I wasn't sure if I would like it. I usually prefer games where you can completely customize your character and the gacha mechanic which brings you premade characters didn't sound too appealing for me. But I gave it a try and got totally hooked. I love games with characters that have an anime aesthetic and Genshin has some really cool character designs. If anyone else plays Genshin I would totally love to hear what your main is.
My main is Ningguang but she doesn't seem to be very popular.

That's everything for my blogpost today. Turned out longer than I thought it would.

I hope everyone has a great day and wish you a sunny autumn weekend!



Sincerely,


Ran
posted on Friday, 21st October 2022 - comment?
Where to start?
A hectic month
Christmas is coming
Been a while
Still alive
Tired
Evolving
Websites, stress & more websites
Happy new year
Let it snow
visitors since 2020/12/06